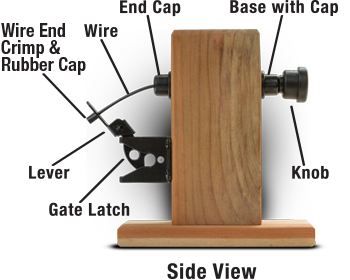 Assemble lever to latch and tighten.
Install latch assembly to post.
Lift lever to post and mark opening.
Drill 5/8″ hole through entire post.
Unscrew side with end cap.
Slide base with knob through hole.
Mark base 1/4″ past post.
Unscrew base from knob, and cut base
(do not cut wire).
Screw knob back to the base.
Insert wire through lever hole.
Cut wire 1/4″ past lever.
Crimp on the wire end crimp
Put on the rubber cap.