GH Gate Products Gate Latch Pull
Never Reach Over The Gate Again!
Never Reach Over the Gate Again!
• GH Gate EZGT001 Gate Latch Pull
• Designed by a pro fence contractor
• Easy to install in less than 10 minutes
• Works with standard gravity latch
• Only $19.99
Here's What People Are Saying About GH Gate Products Gate Latch Pull:
"Very pleased with the functional design, efficient operation and attractive appearance."

"The installation was easy and simplified"

"Customer service is outstanding with rapid response"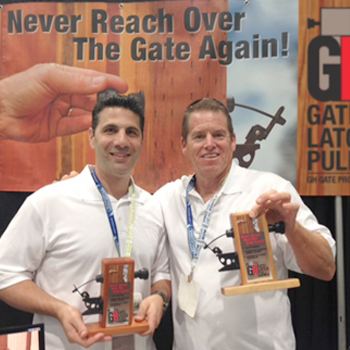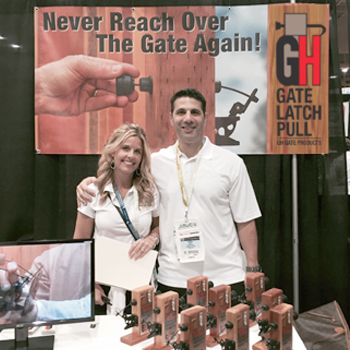 Designed By a Fence Contractor
Gate Latch Pull was designed by Jerry Glover, a fence contractor for with over 30 years installing gravity latches. He created GH Gate Latch Pull as a solution to his frustration of using strings as a pull with the gravity latch or leaving customers to have to reach over the gate on one side. Strings wear out and break quickly and reaching over the gate can be difficult and annoying for customers. GH Gate Latch Pull solves these problems, while looking great.
Jerry Glover, President
Jerry is the founder and creator of the GH Gate Latch Pull.   Jerry has been a fence contractor in the greater Santa Cruz, CA region for over 30 years. Over those years he had experienced many frustrations with the string or wire pulls used on most gates and was inspired to create an alternative. With great determination he was able to solve the age old problem of reaching over the gate and the GH Gate Latch Pull was born.  In his free time he enjoys traveling with his wife Cheryl and together they have raised two children and have recently become proud grandparents.
Aaron Horowitz, Vice President of Operations

Aaron has been in the insurance industry for over 15 years specializing in commercial insurance. He is graduate of the University of Washington and a proud Husky fan. In his down time he enjoys spending time with his 13 year old daughter and his family and friends. His hobbies include golfing, boating and getting to the gym as much as possible. . He met Jerry Glover and his wife while vacationing in Mexico 15 years ago. They have stayed friends over the years and on their last trip to Mexico in December, 2014 was introduced to the GH Gate Latch invention. A partnership was formed and the rest is history.
Jennifer Mulder, Vice President of Sales & Marketing

Jennifer has been in the insurance and financial services industry for over 20 years. Her commitment and dedication to excellent customer service have allowed her the opportunity to grow a successful practice. She has a passion for what she does and for the people that she serves. She was born and raised in the Northwest and is the proud mother of three amazing sons. In her free time she enjoys spending time with her family and friends.